About Us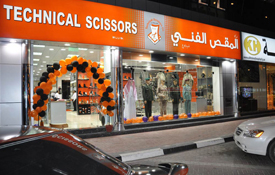 Since from the establishment in the year 1973 at the Emirate of Abu Dhabi, Technical Scissors Company had a specialized delight in the field of Uniforms. TSC had been into stitching & selling of textiles, clothes, furnishings, shoes and civil and military outfits. TSC has achieved ISO certification for its standard operating procedures.

Our specialty services paved the way for the establishment of the biggest uniform supplier in the United Arab Emirates with its 15 branches. Ours thrive to grow as an ultimate name in the field achieved a milestone recently by setting up our first international operation in Qatar. We are in the process of extending our reach to all GCC nations.

We are always far ahead in adopting the NEW in the field - Technology as well as product. Our cutting edge of technological advancement setting standards for the work culture. Our ISO Certified workshops are the illustration for our quality maintained enhanced productivity

The great efforts of the General Manager and the Board of Directors and the wholehearted devotion of the employees that is built on the basis of one team added to this by God\'s grace the company has been able to achieve grant success. We are capable of providing a non-stop service to our clientele which includes Military, various Governmental departments, Private and Public Companies, Establishments, Individuals etc.

A set of administrative officials, technicians and skillful workers who are well qualified and carefully trained to execute and fulfill the various requirements of all type of clients. In addition, modern machinery and equipment to achieve the maximum quality throughput according to the clients\' increasing requirements which enable the good reputation of the TSC over a period of time.